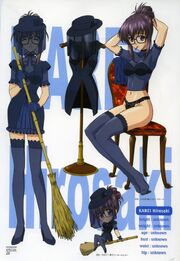 Through most of the series Karei is seen sweeping in front of the boys dorms, which she manages. She is always seen wearing a sexy, black funeral outfit and often appears to be watching out for Kazuki Shikimori, even after he becomes a ghost. At the end of the series, it is revealed that she along with the ghost collector, Shino, were in a similar situation as Yuna Miyama, Rin Kamishiro, and Kuriko Kazetsubaki. However, unlike Shino, Karei views that it is better for a person to be alive, even without their memories, than to remain a ghost.
While never directly stated in the series, there are strong hints that the man that Karei and Shino once loved is related to Kazuki. The first is that Karei pledges to watch over her love from the background, something she still does with Kazuki. Second is that Karei's love was a Shinto priest, while Kazuki is also descended from a line of Shinto priests. And finally is an overlay between Karei's love and Kazuki as Karei reminds Shino of their pledge to watch over their love.
Ad blocker interference detected!
Wikia is a free-to-use site that makes money from advertising. We have a modified experience for viewers using ad blockers

Wikia is not accessible if you've made further modifications. Remove the custom ad blocker rule(s) and the page will load as expected.